Right, I have got to improve my rate of blog entries!! Seriously.
Below is a list of my tasks for today:
Go for Run (Done)
Bring in Laundry (Done)
Put away laundry (Done)
Vacuumed upstairs (Done)
Put up recording of my Live Well Interview for family (Done)
Setup sewing to be done (Done)
Set up invoices for personal tax
Check where we are at for 2013/2014 financial statement
Make Anzac Biscuits (Done)
Make Sandwiches (Done)
Make dinner (Done)
Watch John Carter and sew pants
Make clip of Haley Dean for you tube for grandmothers order (Done)
Prepare phantom doco interviews
Take photos of sky train sites (Done)
Send mums B'day present
Make assets for Opening Sequence of Hollins Trophy 2014

3d logos
Set up backgrounds, cameras and lights

Select Photos/frames for:

Ring for front cover art (skaters entering for warm up?)
1st and 2nd place for each division

Take closing sequence from previous comp and set up for 2014
Find replacement clips for Hollins 2014
Up date the FFPS web site
Find Photography web site template
It is already 12:56pm!!  I had better get cracking.  Next I am making my lunches for the week and Anzac biscuits at the same time.
Yum, lunch today was Banana and Nutella sandwiches since I had some fresh bread to make my sanwdiches: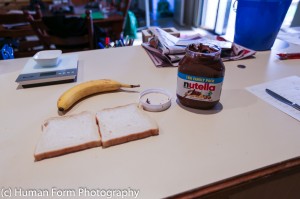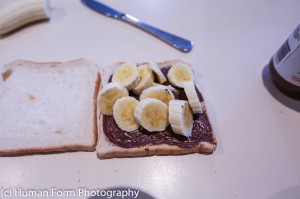 Better get to the making my lunches!
Alright, sandwiches and Anzac Biscuits are done.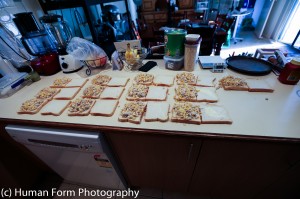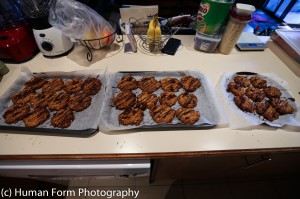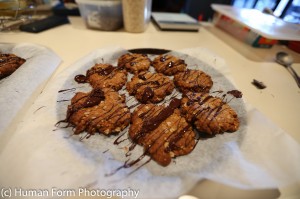 It is starting to get dark so better get the laundry in next…
Well that was not a bad day's effort. One of my honours students who handed in her thesis last week gave me a bottle of New Zealand Savignon Blanc which I have chilled and am having with fish (cooked in sour cream, lemon and lime juice, butter and Riesling) and steamed broccoli and butternut pumpkin. Yumm.