I was doing the weekly gorcery shop last night and in the fruit and vegie section of my local coles (Stanhope Gardens in Sydney) sitting beside the ordinary orange carrots which were $1.98/kg there were these deep purple/black root vegetables that looked like carrots.  Upon closer inspection they were called "Purple Carrots" and looked identical to carrots except for the colour and cost $3.98/kg.  I bought some out of curiosity since I quite like carrots.  I took some photos of them below: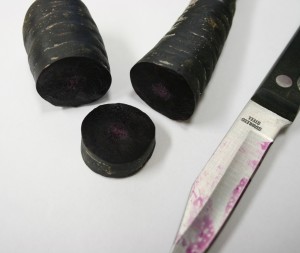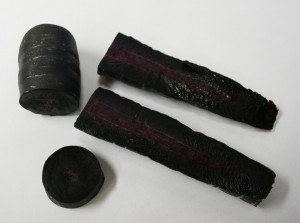 When I tasted them I found that they tasted exactly like normal carrots.  If you had a blindfold on someone, I doubt that they would be able to tell that the carrot was any different from any normal carrot.  Upon doing some research I found that Purple carrots far from being a new hybrid type of carrot are actually a old type of carrot and are what carrots were originally like 5000 years ago in Afghanistan.  The orange carrot was actually bred from the original purple carrots by the dutch so the vegetable we have come to know as a carrot is actually a decendant from the original purple carrots not the other way around.  There is some great information on the history of carrots in the Carrot Museum (Reference).
Most images on the internet of purple carrots if you look them up will show a carrot with a purple exterior and an orange interior, e.g.: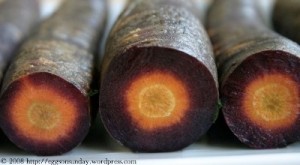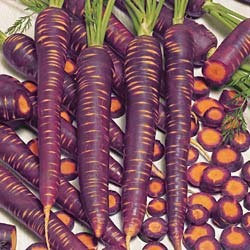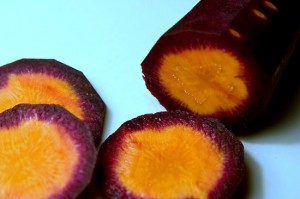 Whereas the purple carrots I got from coles were purple all the way though.  Interestingly the purple carrots Coles is currently selling are not even available online as they don't appear on their web site:

It seems that in the last half of 2010 carrot growers in Tasmania put in a 60 tonne test planting of a breed called "Deep Purple" (Reference), and it is these that coles are selling.
The purple colouring is a similar compound to the blue and red colourings that occur in Blueberries and Raspberries and have very strong antioxidant properties.  There are also purple breeds of potatoes such as purple congo (Reference):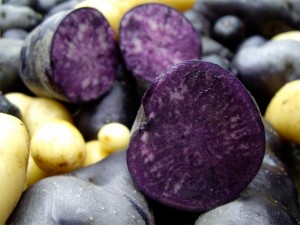 And purple cauliflower, though by all accounts these trun green when you cook them (Reference):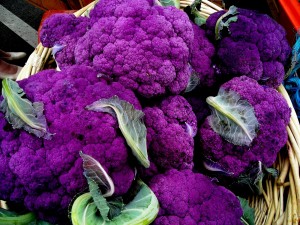 So if you wanted to have a Meat and purple 3 vege you could.  I am not sure why the purple cauliflower would go green when you cook them as the purple potato does not (eg when you cook and mash it).
Regardless it is all very cool.
Edit Note (3rd May, 2011):
I was speaking to someone at work about purple vegetables and how they change colour when you cook them, and he said that if you cook them with bicarb soda in the boiling water it helps them to keep their colour.  I haven't tried this my self but it is something to keep in mind.